高精密平面研磨機
HIGH PRECISION PARALLELISM LAPPING & POLISHING MACHINES
NH-5B2MTS・NH-6B2MTS・NH-6B6S2MTS・M-5B4MTS・M-6B4MTS・M-6B6S4MTS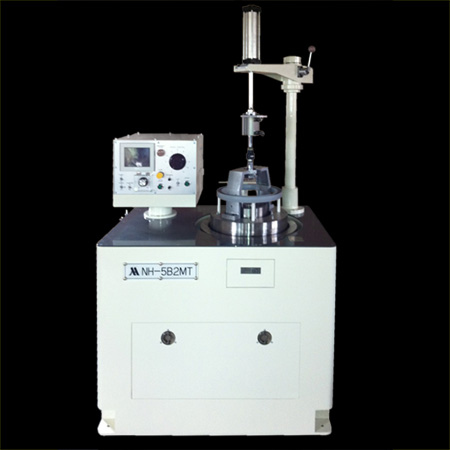 NH-5B2MTS・NH-6B2MTS・NH-6B6S2MTS・M-5B4MTS・M-6B4MTS・M-6B6S4MTS型の特徴
(1)従来のラップ加工に比べて工作物の平面平行精度が極めて高く、特に薄い工作物の場合顕著であります。又、特に研究をかさねラップ物の上面、下面の加工度が均一になる様になって居ります。
(2)フォア・ウェイの大きな特徴であるラップ加工の能率が高いため、従来の3倍以上の実績が得られます。
(3)加工の際ストレスが加わらないため、薄くて脆い材質のものでもラッピング中に破損する事故は、ほとんど発生しません。
(4)本機はサーボモーター・タッチパネル仕様のため0からの始動が可能であり、始動時の衝撃を加工物に与えることがありません。又、他の方式に比べ出力に応じた分だけ電力を使用するため、きわめて経済的な省エネルギータイプです。
(5)駆動はスライド方式により加工の種類に応じて容易に適宜な回転数を得られます。
(6)回転計使用のため適宜な回転速度で効率的に作業できます。(ラップ下盤が基準)
(7)電子式デジタル・プリセットカウンター使用のためラップ量の精密度を高め、加工時間の規制と共に、ラップ量の制御を半自動的に行えます。(下盤の総回転数)
(8)ラップ上盤の上下装置は油圧装置のため容易に作動する事ができます。
また、低速度おくりが可能のためラップ物の破損がほとんどありません。(クッション付)
(9)インターナルギアー上下移動は油圧装置のため容易に作動する事が出来、又、任意の所に止められます。(特許機構)
(10)オプションにより自動盤面修整サイクルを取り付ける事が出来ます。
これにより盤面の平面度の管理が容易に行え、常に最良の状態で研磨出来ます。
(11)自動定寸装置、A.L.Cもオプションにより取り付ける事が出来ます。
FEATURES OF NH-5B2MTS・NH-6B2MTS・NH-6B6S2MTS・M-5B4MTS・M-6B4MTS・M-6B6S4MTS TYPE
(1)Comparing with conventional lapping, fihish of workpieces,especially thin workpieces, is very precise in Parallel. In addition, both surfaces of workpieces are lapped equally.
(2)The 4-way system provides efficient lapping productivity,three times higher than that of conventional 2-way system.
(3)As workpieces hardly get stress on them during lapping, even thin and fragile workpieces will be scarcely damaged.
(4)By adopting SERVO Motor so that start of rotation of lapping plates can be done from zero, workpieces are not effected by starting impact. In adittion, the machine is economical, save-energy type as, compareing with other machines, electric power is consumed as much as responding to its output.
(5)By adopting slide system for lapping plates revolution speed control, the speed control, the speed can be easily adjusted to meet with kind of workpieces lapped.
(6)By a revolution meter, optimum revolution speed can be adjusted.(The speed is set with revolution of lower lapping plate)
(7)By use of an electroric preset counter, precise amount required can be lapped and control of the amount can be done semi-automatically.(Number of revolution is counted by lower lapping plate)
(8)Up and down of upper lapping plate is done easily by a hydraulic system, and slow movement can be done as well.
(9)Up and down internal gear is done easily by hydraulic system, and slow movement can be done as well.]
(10)As option, self lapping plate surfaces conditioning system is available on all models. The system provides easy control of flatness on lapping plate surfaces and optimum surface condition always.
(11)As option, TRANSAT ALC, Automatic Lapping Controller, can be used.
仕様 (Spechification)
Description/Model
N-6.4B:
N-5B
NH-6.4B:
NH-5B
N-6B:
N-6B6S
NH-6B:
NH-6B6S
Nunber of carrier
9pcs/set :8pcs/set
9pcs/set:8pcs/set
5pcs/set:6pcs/set
5pcs/set:
6pcs/set
Minimum thickness
25μ:28μ
27μ:30μ
40μ
30μ
Main motor
0.75kw (INV)
Machine size
700 w × 1000L ×1660H
Weigh
720kg
Power
AC200v 3φ 1.4KVA
Option Spec
2Motor & Touch panel (N/R Automatic driving)
※
NH−High Frequency & Gear Box Gear or 2Motor